CWEB Publishes Roundup of Business and Trending News Highlights that Matter the Most – October 20, 2023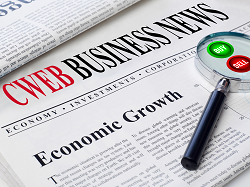 CWEB, the American multinational media news company, has published its latest roundup of trending business news for October 20.
CWEB, the American multinational media news company, has published its latest roundup of news for October 20, summarizing the important events and highlights from across industries and around the world.
The following are the main highlights as reported in the review:
The Federal Communications Commission has begun a new initiative to update the regulations that apply to broadband providers. As part of this initiative, they have advanced a rule proposal that would re-establish "net neutrality." Beginning with the beginning of 2015 and continuing until 2017, when it was revoked by Trump's FCC chair Ajit Pai, this strategy was utilized by the FCC. Now, however, a Democratic majority within the agency is shifting away from that strategy.
As a result of rising Treasury yields, which placed pressure on risk assets around the world, as well as disappointing earnings announcements from some of the region's largest corporations, European shares dropped to their lowest level in seven months.
Following a consensus reached by a panel of FDA advisors last month that the drug is ineffective, CVS Health (CVS) has decided to remove from its shelves all over-the-counter cold and cough medicines that contain the contentious decongestant phenylephrine. This change was made because CVS, along with other OTC drugmakers and merchants, is facing an increasing number of lawsuits relating to the effectiveness of the medicine.
On Friday, the Ministry of Commerce and the General Administration of Customs said that China is planning to restrict the export of graphite, a mineral that is essential to the production of batteries for electric vehicles (EVs). This move is being made for reasons related to the country's national security.
Beginning on October 26, travellers with basic economy tickets and window seats will board the aircraft first, followed by customers seated in middle seats, and finally passengers seated in aisle seats. According to information provided by United to NPR on Thursday, the adjustment is anticipated to shorten boarding times by up to two minutes.
The telecom giant AT&T exhibited an improvement in subscriber growth and free cash flow during the third quarter, which led to a 5% increase in the stock price of AT&T. The fact that the company reversed a trend of falling postpaid phone users over the course of four consecutive quarters was sufficient to rekindle investors' interest in the short term.
Potential homebuyers, particularly first-time buyers, are continuing to be discouraged from entering the market since mortgage rates are getting close to 8% and there is a shortage of housing inventory. According to a study that was released on Thursday by the National Association of Realtors, existing-home sales dropped by 2% to 3.96 million in September. This represents a 15% decrease from the same month last year.
Due to the high mortgage rates, Tesla, along with General Motors and Ford, has adopted a cautious approach to expanding its electric vehicle (EV) production capacity. This is because the affordability of their automobiles is being negatively impacted. Elon Musk has stated that before scaling up production at Tesla's proposed factory in Mexico, he will wait until there is more certainty regarding the economy.
In India, Google is continuing to diversify its manufacturing operations by producing Pixel smartphones. The IT giant is the most recent company to place a bet on the South Asian market for the manufacturing of electronic devices. It has the intention of beginning local manufacturing in India with its present range, and it anticipates that it will begin distributing them sometime in the next year.
ESPN's financials are revealed by Disney as the network prepares for its future as a distinct division. The company intends to break out Sports as its own business sector, so it gave analysts and investors a look under the hood of ESPN in advance of the financial report that would be released the following month. It made an operating income of approximately $1.5 billion during the first nine months of the fiscal year 2023, with revenues totaling $13.2 billion.
Since the beginning of the year, several of the largest American banks have been covertly laying off employees, and some of the most severe reductions are still to come. In spite of the fact that the resiliency of the economy has surprised forecasters, lenders have trimmed staff or indicated intentions to do so. The most notable exception to this trend is JPMorgan Chase, which is the largest and most profitable bank in the United States.
On Thursday, the Internal Revenue Service (IRS) made public an announcement on a "special withdrawal process" for small firms that may have improperly claimed the employee retention tax credit, sometimes known as the ERC.
JPMorgan (JPM) stated on Wednesday in a research study that the cryptocurrency known as bitcoin (BTC) has grown in value this week due to heightened optimism around the likely approval of numerous spot bitcoin exchange-traded funds (ETFs).
American Express (AXP) and Schlumberger (SLB) are in the spotlight for their earnings reports on Friday, October 20.
Stocks to watch with positive momentum and Buy Rating:
SNDL Group (SNDL), Groupon (GRPN), Chase Bank (JPM), Microsoft (MSFT), GOOGL, Apple (AAPL), Pay Pal (PYPL), Walmart (WMT), Amazon (AMZN), Facebook (META), Tesla (TSLA), Carnival Corporation (CCL), PepsiCo (PEP), Wells Fargo (WFC), Johnson & Johnson (JNJ), Philip Morris International (PM).
Read the full newsletter online: https://www.cweb.com/cweb-news-summarized-breaking-business-and-stock-newsletter-october-20-2023/
Post your free blog on CWEB at: https://www.cweb.com/add-a-free-blog
Check out the latest news and announcements at CWEB: https://www.cweb.com
About CWEB.com
CWEB is an American multinational media news company. CWEB is primarily involved in the news, media, blogs and entertainment industries, including free forums, classifieds and job postings. CWEB reports breaking news, celebrity, entertainment, sports, politics, finance, stock market and business news.
Facebook: https://www.facebook.com/cwebmedia
Instagram: https://www.instagram.com/cweb/
Twitter: https://twitter.com/cweb
YouTube: https://www.youtube.com/c/cwebmedia
TikTok: https://www.tiktok.com/@cwebnews
Media Contact
Company Name: CWEB
Contact Person: Rachel Cohen
Email: Send Email
Phone: (310) 990-0009
Address:PO BOX # 12404
City: Marina Del Rey
State: California 90295
Country: United States
Website: https://www.cweb.com/