Introducing Dēp Slēpwear: A revolutionary sleep hoodie designed to optimize sleep quality
Discover the transformational potential of Dēp Slēpwear and unlock a new level of sleep quality.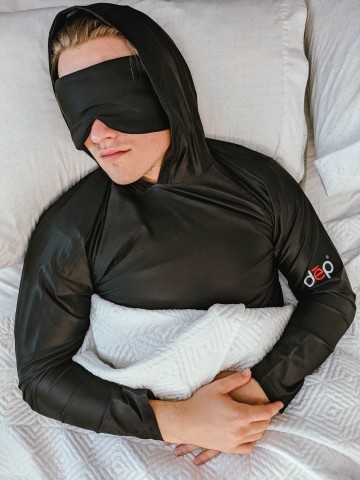 Dēp Slēpwear has officially launched its patented Dēp Sleep Hoodie and is on a mission to help the millions of people struggling with sleep challenges achieve faster, deeper, and longer sleep. This ground-breaking sleepwear combines comfort with the three factors necessary for restful sleep: darkness, quiet, and body temperature regulation. The Dēp Sleep Hoodie transforms how we sleep by creating the optimum sleeping environment, whether at home or on the go. A clever and comfortable built-in sleep mask in the Dēp Sleep Hoodie effectively blocks light to encourage deeper, more peaceful sleep. The mask also covers the ears to muffle outside noise and create a tranquil private sleep cocoon. And the sweat-wicking fabrics in the hoodie help control body temperature, providing cool and comfortable sleep all night long.
Popular among people with insomnia and other sleep challenges, the Dēp Slēpwear Hoodie has also been embraced by professional athletes and coaches in all major U.S. sports leagues, including the NBA, NHL, NFL, MLB, MLS, and beyond. The Dēp Slēpwear solution has also earned endorsements from prominent sleep specialists, sleep coaches, performance coaches, and military veterans.
Dēp Slēpwear was created by founder and CEO Glenn Paradise to help him deal with his own issues with insomnia. "It certainly helps me sleep better. And it's a great feeling when customers tell me they are experiencing an additional 30 minutes of deep sleep some nights," he said. Deep sleep is the phase of sleep when muscles build and repair, making it especially important for athletes who are always searching for ways to improve recovery and performance. When wearing the Dēp Slēpwear Hoodie, Paradise continued, customers frequently report better sleep scores from their sleep trackers, like Oura and Whoop.
Dēp Slēpwear has rapidly risen to fame globally since its inception in 2018. In 2019, the Indiana Pacers was the first NBA team to use this ground-breaking sleepwear. Since then, Dēp Slēpwear has earned the trust of athletes, teams, and recovering insomniacs in more than 20 nations. Recognizing the Dēp Sleep Hoodie's potential to improve sleep quality, renowned sleep expert Dr. Michael Breus, better known as The Sleep Doctor, also supports it. He says, "Dēp Slēpwear is one of my favorite moisture-wicking pajamas. They can help you stay cool, dry, and comfortable all night long." Dēp Slēpwear is also a godsend for frequent travelers as it can help prevent the dreaded "first night effect" and guarantees sound sleep throughout long flights and bus rides.
To learn more visit: https://depslepwear.com
About Dēp Sleepwear
In 2018, Dēp Slēpwear was established to revolutionize how people sleep. Pro athletes and sleep experts alike support the unique Dēp Sleep Hoodie, which blends darkness, quiet, and body temperature management to produce an ideal sleeping environment. Dēp Slēpwear, which has clients in more than 20 nations, is redefining sleep hygiene worldwide.
Media Contact
Company Name: Dep Slepwear
Contact Person: Glenn Paradise
Email: Send Email
City: Boston
State: Massachusetts
Country: United States
Website: www.depslepwear.com