"Be Epic: Integrity Always" by Arash Rezaei is inspiring readers to achieve success through the power of mindset and integrity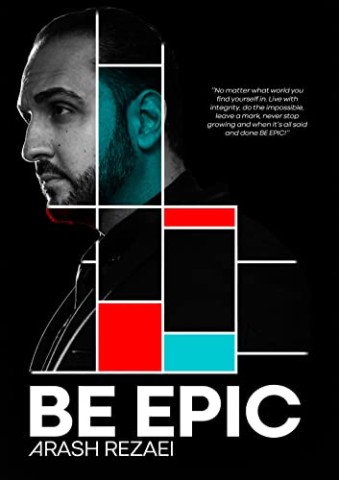 Arash Rezaei's new book, "Be Epic: Integrity Always" is a powerful memoir and self-help guide that showcases how anyone can achieve success by having the right mindset and staying true to their values. The book is the culmination of over 20 years of love, passion, and wildness and tells the story of a man who lived in three worlds, from a troubled youngster to a successful businessman.
Through his experiences living amongst the wealthy, the common folks, and an underworld of darkness, Arash Rezaei learned that every action is based on a right or wrong belief from the perspective of the person acting. He realized that limitations in understanding could prevent individuals from seeing what truly is correct. Thus, the basis of all logic points to one clear understanding brighter than any other, that every action is based on a right or wrong belief.
"Be Epic: Integrity Always" is not just a story but a call to action.
It encourages readers to develop the right mindset and stay true to their values, regardless of the circumstances they face. Arash Rezaei is a young entrepreneur driven by a vision to help others to succeed and write their own epic success stories. He believes that everyone has the potential to become a legend and that success is within reach for those who have the courage and integrity to pursue it.
As an exclusive business speaker, Arash Rezaei has helped many young startup businesses flourish and grow. He understands entrepreneurs' challenges and offers practical advice and guidance to help them succeed. He is passionate about establishing links between startup businesses themselves and with those who can help them build their business's legacies.
"In this three-second world we live in, we have less time to make an impact," says Arash Rezaei. "Nobody will help you find your purpose, and so many are hopelessly comfortable with being mediocre that they are inured to it. You live in a world where 100% is not good enough to become a legend. Get your mindset right and claim what is yours."
Berry Everitt, CEO of the Chas Everitt International Property Group and a successful "Blue Ocean" strategist, had this to say about Arash Rezaei: "In the first three seconds of meeting Arash, his stylish all-black attire, alabaster skin, sharply sculpted stubble beard, and dark hair matched his larger-than-life presence, making him stand out from a world of obnoxious distractions and wandering generalities."
"Be Epic: Integrity Always" is an essential read for anyone looking to achieve success and positively impact the world. It offers a powerful message of hope, courage, and integrity that will inspire readers to reach for their dreams and become legends in their own right.
To learn more about "Be Epic: Integrity Always" and Arash Rezaei, visit his website at:www.rezaeisa.com
Media Contact
Company Name: Rezaei
Contact Person: Arash Rezaei
Email: Send Email
Country: United States
Website: rezaeisa.com