Socialkoof become the first Digital Agency to have its presence in Metaverse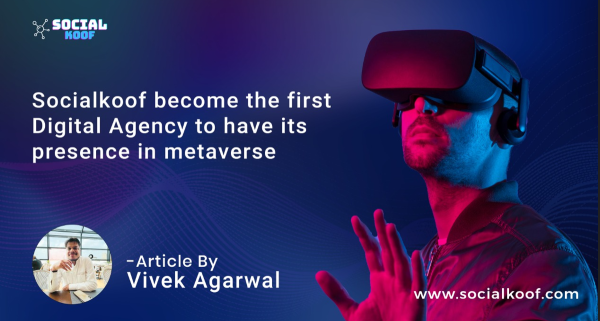 Web 3.0 is rapidly gaining prominence among individuals and businesses. Recently web5 is also announced by Jack – Twitter founder, With the advent of web 3.0, Metaverse has a key role to play in creating a pro-futuristic image of the country.
Many key players based in the region such as Nike, and Adidas have already voiced their intentions to be a part of the metaverse. "Future is not anymore web3 its Web5 as quoted by jack & it would create a separate identity apart from the real world", says Vivek Agarwal, Founder & Ceo of Socialkoof Advisory Services.
Socialkoof Advisory services, a Marketing consultancy firm is one of the first of its kind to have its presence in the Metaverse. It is a Global Digital Marketing Firm that specializes in Marketing, PPC and Branding, venture capital funds, fintech, and crowdfunding. We aid companies in getting full-stack Marketing to run their business hustle-free. Socialkoof has developed a reputation as one of the most innovative Marketing firms – and the go-to professionals for organizations all over the world wishing to conduct business in the digital marketing sector. They have a professional presence in India, the United States, Singapore, the United Kingdom, Estonia, and Spain via its associates.
Why did Socialkoof decide to open its virtual office in Metaverse?
With the advent of Web 3.0, Metaverse has been gaining immense popularity with various organizations carrying out their day-to-day functions on the virtual reality platform. The main objective of Socialkoof is to provide Marketing consultancy via Metaverse and to solve certain Marketing issues that have been rampant in this space such as:
Community Management Concerns
Bots have plagued the real world despite the presence of anti-bots and auditing tools therefore, you can think about the plight of the metaverse where there's nothing concrete to stopping bots to infiltrate the group. Socialkoof has set up a system in different parcels of the metaverse where metaverse users can go and consult experts to get an anti-bots system to prevail within the metaverse for a range of problems related to data abuse by bots. In this way, the users who are actively engaged with the metaverse would see a new experience where they can rest assured that if their personal details are abused, they can certainly get to know how to get bot-free in the Metaverse.
Restructuring Discord Servers
As metaverse goes mainstream, the need to set servers that were highly engaged & provide direct access to the community where they can ask their doubts, and concerns, Ama, connect with the influencers that too bot free environments with an expert team of community managers who would make sure that every query would be answered within stipulated tat, Socialkoof would make sure that by entering into metaverse there would community managers present in different areas of the metaverse, At such times, the need for strict rules to adhere to a specific guideline will rise. However, when dealing with data in the metaverse, there must be a specific guideline that could help run things smoothly. Through the Socialkoof advisory services, for the first time, there will be a provision to define a clear structuring of the discord servers.
How To Connect with Socialkoof Advisory services?
Socialkoof Advisory has been based in Decentraland from where they are providing all the Marketing services that support the Marketing system in the metaverse. Socialkoof is the first initiative to make metaverse satisfying, answerable, accountable, and transparent for adoption across multiple sectors.
Media Contact
Company Name: Social koof
Contact Person: Vivek
Email: Send Email
Country: India
Website: https://socialkoof.com